05/09/2012
Polycarbonate Sheets Conquer LED Lighting Technology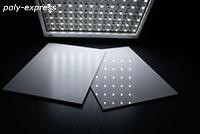 Darmstadt, Germany, September 6, 2012 - Makrolon® sheets from Bayer MaterialScience have outstanding reputation among lighting device manufacturers and designers. Now, in time for the Strategies in Light Europe 2012 conference and exhibition, to be held from September 18 to 20, 2012 in Munich, Germany, the company introduces additional product innovations for LED lighting technology at Stand D23.
With the Makrolon® RX line Bayer MaterialScience launches a product range with a total luminous reflectance rate of more than 95 percent (according to EN ISO 13468-2). This makes the opaque solid sheets an excellent choice for the manufacture of diffuse light reflectors. Thanks to its outstanding material properties, which include mechanical resistance, excellent thermoforming abilities, and high temperature resistance - plus, in Makrolon® RX-FR, also superior flammability resistance according to UL94 V-0 - the hightech material can be an attractive alternative for exterior parts as well as interior light reflecting components of lighting devices.
The Makrolon® DX line is yet another product range from Bayer that stands for state-of-the-art diffusion technology available in numerous designs and varieties. The material does away with the common issue of LED hot spots. The sheets provide maximum luminosity while providing pleasant light diffusion and indoor atmosphere in offices and shops, lounges, discotheques and bars. The material complies both with the US plastics flammability standard (UL 94) and with most European flammability standards (EN 13501-1, DIN 4102-2, BS476-7).
These products are prime examples of the newly developed product portfolio that Bayer MaterialScience has available for lighting technology. Makrolon® offers a lot of flexibility and freedom in component design, is lighter in weight than glass or metal, and can be processed economically. Compared to other plastics it offers a unique combination of first-class transparency, high impact resistance, outstanding temperature resistance up to 120°C, and an inherently high flame resistance.